Alignment Positions
Published by @SoNiceInfo at 6/24/2020
You can define 9 positions with Alignment.
This is a figure showing the alignments.
To show alighment positions, letters are framed with red, frames are colored with blue using VStack and HStack.
Aligment is specified like VStack(alignment: .leading) and frame(alignment: .top).
Once you learn Top, Bottom, Leading and Trailing, you can use it intuitively.
| topLeading | top | topTrailing |
| --- | --- | --- |
| leading | center | trailing |
| bottomLeading | bottom | bottomTrailing |
//




//  ContentView.swift




//





import

 SwiftUI



struct

 

ContentView

: 

View

 {
    

var

 body: some 

View

 {
        

VStack

() {
            

HStack

() {
                

Text

(

"topLeading"

)
                    .border(

Color

.red)
                    .frame(width: 

100

, height: 

100

, alignment: .topLeading)
                    .border(

Color

.blue)
                

Text

(

"top"

)
                    .border(

Color

.red)
                    .frame(width: 

100

, height: 

100

, alignment: .top)
                    .border(

Color

.blue)
                

Text

(

"topTrailing"

)
                    .border(

Color

.red)
                    .frame(width: 

100

, height: 

100

, alignment: .topTrailing)
                    .border(

Color

.blue)
            }
            

HStack

() {
                

Text

(

"leading"

)
                    .border(

Color

.red)
                    .frame(width: 

100

, height: 

100

, alignment: .leading)
                    .border(

Color

.blue)
                

Text

(

"center"

)
                    .border(

Color

.red)
                    .frame(width: 

100

, height: 

100

, alignment: .center)
                    .border(

Color

.blue)
                

Text

(

"trailing"

)
                    .border(

Color

.red)
                    .frame(width: 

100

, height: 

100

, alignment: .trailing)
                    .border(

Color

.blue)
            }
            

HStack

() {
                

Text

(

"bottomLeading"

)
                    .border(

Color

.red)
                    .frame(width: 

100

, height: 

100

, alignment: .bottomLeading)
                    .border(

Color

.blue)
                

Text

(

"bottom"

)
                    .border(

Color

.red)
                    .frame(width: 

100

, height: 

100

, alignment: .bottom)
                    .border(

Color

.blue)
                

Text

(

"bottomTrailing"

)
                    .border(

Color

.red)
                    .frame(width: 

100

, height: 

100

, alignment: .bottomTrailing)
                    .border(

Color

.blue)
            }
        }.border(

Color

.blue)
    }
}



struct

 

ContentView_Previews

: 

PreviewProvider

 {
    

static

 

var

 previews: some 

View

 {
        

ContentView

()
    }
}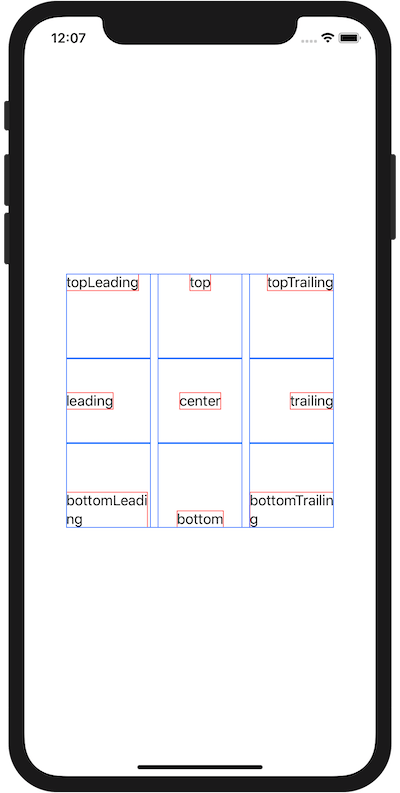 References
Alignment — SwiftUI Tutorials | Apple Developer Documentation